Movement Workshops with Erica Barnes, GLCMA

y love for movement ultimately brought me to the Graduate Laban Certificate of Movement Analysis (GLCMA) program at Columbia College Chicago. The human body is incredibly inspiring and I aim to create workshops to foster creativity and common vocabulary as an individual mover or as an ensemble of movers.
Laban Movement Analysis (LMA) is a method and language for describing, visualizing, interpreting and documenting all varieties of human movement. Originating from the work of
Rudolf Laban
and developed and extended by
Irmgard Bartenieff
,
Warren Lamb
,
Bonnie Bainbridge Cohen
,
Peggy Hackney
, and
Carol-Lynne Moore
and many others, LMA is an excellent communication tool to help actors, dancers, athletes and any moving human feel more connected and alive in their own body. All workshops are customizable and can vary from a few hours to a few weekly sessions, based on your intentions and needs.
---
Erica teaches Laban at The Second City!


Check The Second City website for more details!

Improvisers rely on gesture and movement to communicate mood and character. Rudolf Laban, a pioneer in the study of movement, used the word "Effort" to describe this dynamic quality in human expression. Create new characters from a body first approach! Use Laban Efforts to get your characters moving in new and different ways. This workshop includes an introduction to the Laban Effort vocabulary, embodiment of the various states and drives within the Efforts, and application to text and character!



---
Private Classes

Bartenieff Fundamentals Workshops

This workshop is designed for individuals or groups looking to tap into what Peggy Hackney calls Patterns of Total Body Connectivity. Utilizing Irmgard Bartenieff's Basic Six, movers will reorganize the body to feel more grounded, connected, and open to more movement possibilities.


Laban Movement Workshops

This workshop is structured for individuals or groups looking to find a common vocabulary using Rudolf Laban's Effort category. Effort includes the exploration of the motion factor continuum including Weight, Time, Space, and Flow and encourages participants to be able to embody these efforts with easy intention allowing powerful expression without excess energy or force. The workshop includes embodiment of the motion factors, states, drives, and the diagonal scale along with practical application to text and character.

---
Erica's Teaching Style:

Erica has this fantastic ability to command a room and get things done while you feel like you're hanging with your best friend. She creates a safe space to explore new ideas and movements with your body. It's always intimidating to try to move your body in new ways, but Erica quickly puts those fears to rest. Her in depth knowledge of the subject lets you know that you're learning from someone passionate about the subject and the safe space she creates allows you to learn all the ways your body wants to move. –Ali

I liked that Erica leads a room full of movers so democratically that my learning experience became a collaborative process in a way that it has not been in workshops I have attended in the past. I find also that Erica is equal parts incredibly knowledgeable and incredibly fun. -Jabu

I felt very comfortable with Erica as a teacher. She was welcoming, funny, and confident. I liked that I could be myself during the class and was encouraged to do what felt best for my own body's needs. The partnering was also helpful because I feel this kind of work is best learned by doing and second best by observing. –Justin

Erica's enthusiasm for Laban and movement-based theatre is infectious and this enthusiasm certainly was felt in class. I felt that her progression into the different elements of Laban training was smooth and logical, building upon each step so I could clearly follow. As someone who has never taken a movement class, I felt that Erica made the class inviting and safe through her humor and, again, her enthusiasm. -August


Powered by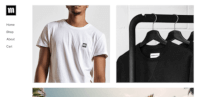 Create your own unique website with customizable templates.